ST ANDREW'S CHURCH
Spratton parish church is by far the oldest building in the village. It may originally have been dedicated to St Andrew but, during the 18th and 19th centuries, it was dedicated to St Luke. The dedication reverted to St Andrew in 1949.
The church, built from ironstone, stands on high ground in the centre of the village and has a tower with a spire. The original building probably dated from Saxon times but was enlarged and strengthened in 1120 in the days of Henry I and parts of the old church still survive. The bell tower was built in about 1195 AD and a north aisle added. The first recorded vicar was Henry de Briggstok, inducted in December 1274, as shown in the list of vicars.
One of the treasures of St Andrew's Church is the tomb of Sir John Swinford who died in 1371 and whose story is told on a separate page of this site. The south aisle was added in the 14th century and the chancel was added in the early 16th century. In 1505 John Chambers, a descendant of John Swinford, built a chantry chapel on the north side of the chancel. The plain stone font situated by the south door is thought to be 13th century or older.
The five old bells were originally cast in 1685 and hung in a wooden frame. In 1929 it was decided that no.2 and no.4 bells needed to be recast and the bells rehung in a steel frame. £385 was raised for the renovation and they rang out once more from April 1930. At that time, space was left for a sixth bell and in 1988 a new treble bell weighing five and a quarter hundredweight (266.7kg) was installed.
The interior of the church was restored in 1847 by Sir George Gilbert Scott with the builder Cooper of Derby. The choir stalls with carved finials were restored and the north porch rebuilt. In 1870 the spire then had to be taken down nearly to the base and rebuilt. Further renovation to the spire was required after two terrible storms and a lightning strike in 1946.
Spratton villagers have been buried in the churchyard for nearly 800 years and thousands lie beneath the grass. Today, only 215 graves are marked, mainly from the 18th and 19th centuries. The grandest tomb, near the north porch, belongs to the Lantsbery family. The churchyard was closed for burials in 1903.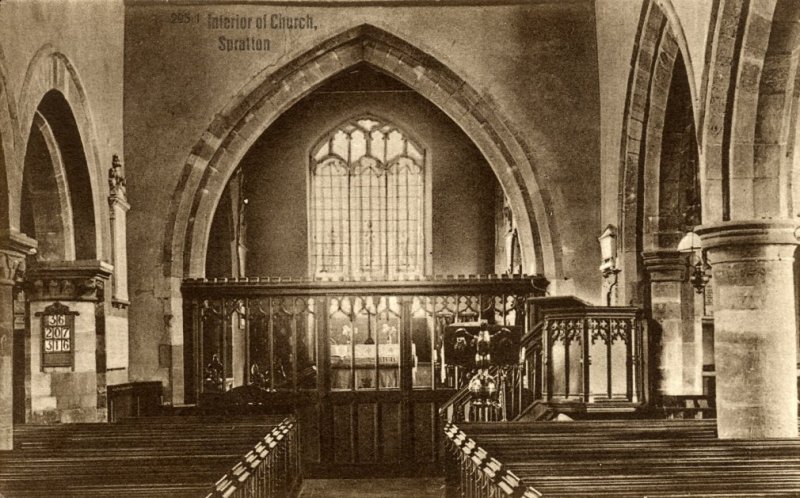 SPRATTON HISTORICAL FIGURES, OCCUPATIONS AND VILLAGE INSTITUTIONS